I feel like the inventory headline is one we see frequently and "I'll just wait it out" is the sentiment I'm hearing often. Have you heard either of these? Have you said it yourself? I can't claim innocence either.
Here is the type of chart I've even shared: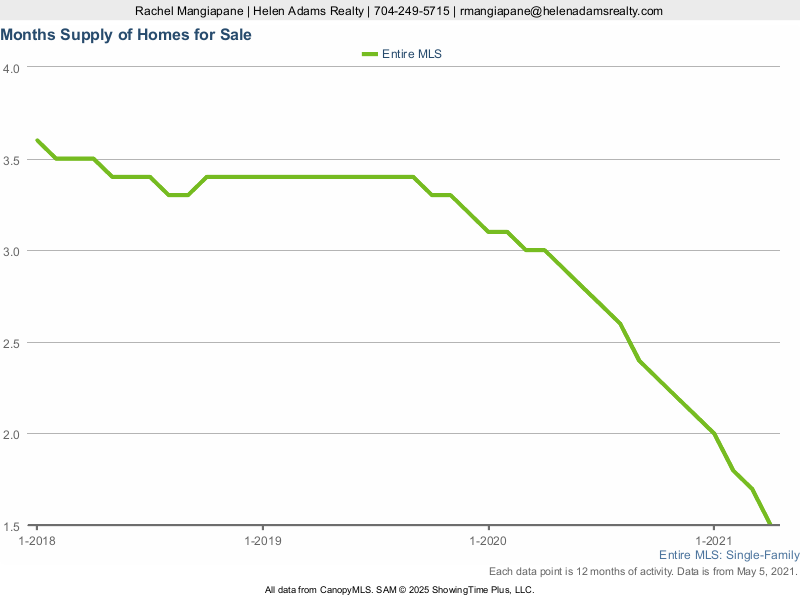 But the truth is, we do have inventory. We just have low "standing" inventory. Let me explain the difference and why it is important to the buyers who are feeling frustrated by the constant mantra "there is no inventory."
Check out this graph. This represents closed sales. See how sharply the graph is rising? That means more homes have sold in the area in recent months than in past years.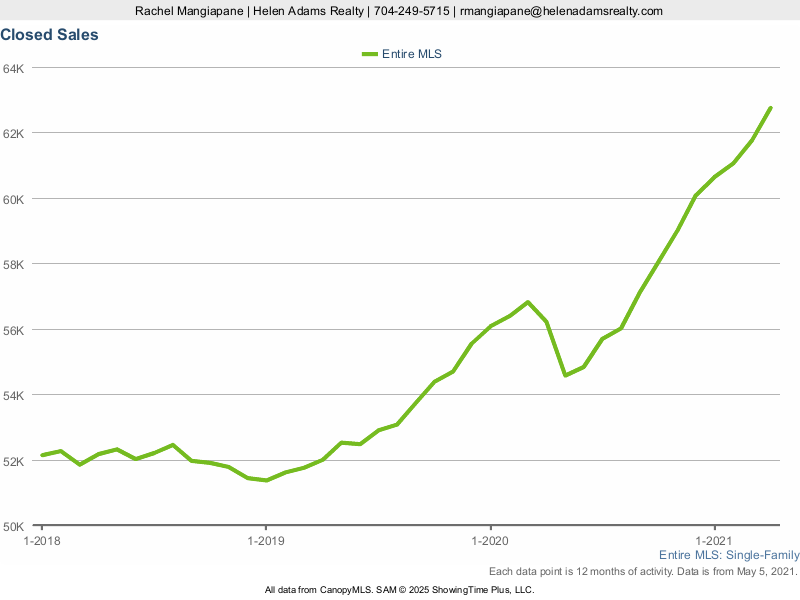 To close a sale, there must have been a home for sale! Lots and lots of homes have been for sale, and have sold.
The activity has been intense and homes are selling more quickly because more people are moving to this area.
The following chart shows Days on Market.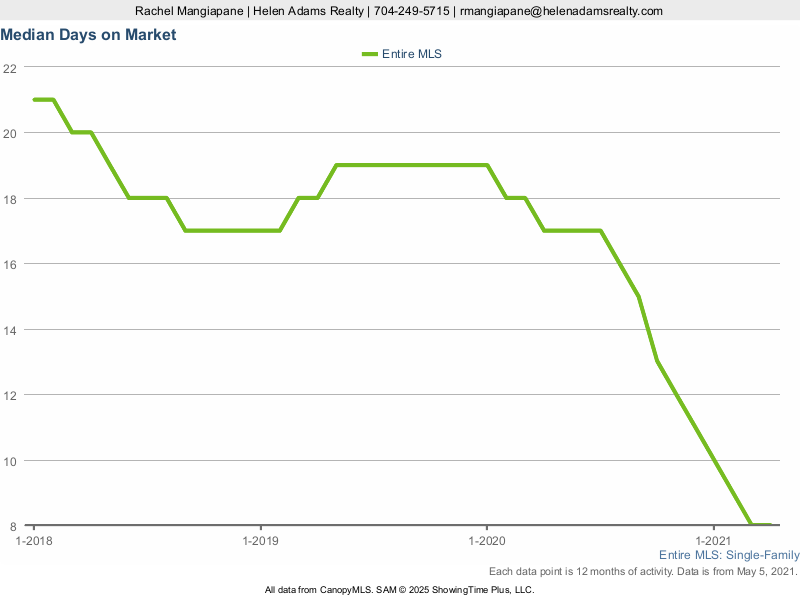 Homes used to average around 16 days on market whereas now it is closer to 7 days. The pace is much faster.
Low standing inventory vs low inventory is a really important distinction for buyers. There are plenty of homes from which to choose. There is just competition for them as more people figure out how desirable this area is! Who wouldn't want to live here?
I'm sure you are wondering how to take advantage of the situation?
Process:

If you step into this market thinking you'll just check it out and if you find a home you love you'll get prepared, you'll be disappointed. Not only will you not understand the market, you'll also be woefully unprepared to succeed in this market.
What do I mean by a process? Be methodical. Know what you are looking for, what you can afford, how the market works, and what it takes to make a winning offer. The best way to do that is to enlist the help of an agent who can guide you through those steps.
Preparation:

Preparation is critical to succeeding. Take the time up front with an agent to talk through what you need in a home. A good agent can help find everything that meets your needs, and then together you can refine and eliminate homes.
Get pre-approved! Lenders can do this quickly and easily. Knowing what is in budget makes a home search much more fun. Because of the competitiveness of the market, the vast majority of offers require the pre-approval letter with the offer. It doesn't even really make sense to go see homes unless you have done this step. What if the budget you have in mind is too high / too low? \
Once you are prepared, then you are ready to pounce and make a strong offer. A diligent agent can take a lot of the guesswork out of the offer for you. Countless data points can be analyzed and combined with market knowledge to help you craft a strong offer you feel comfortable with. Knowing you have put your best foot forward and you have made an educated offer should bring some comfort.
Patience / Perseverance:

Patience is still needed because while you can do all of the right things, it can still not fall in your favor. Somebody else might have been willing to pay more than you were comfortable with, or perhaps they offered terms that were especially appealing to the seller. Remaining positive and patient will help you to achieve success.
Changing the mindset from "there is no inventory" to "there are lots of homes for sale and I am prepared to put my best foot forward" is important. Buyers have lots of options!
The second thing I am hearing so frequently is the idea that things are so inflated, people are opting to wait until prices come down.
Most analysts don't foresee this happening in our area specifically in the next few years. There are many reasons, but here are several of the biggest factors: People are increasingly moving to our area vs away from our area. The cost of building supplies has dramatically increased, and there is a finite amount of land on which to build.
Here is an interesting chart which shows some of the costs of waiting. I found this one impactful.
With rates rising and prices continuing to rise, mortgage payments will grow for the same house. Buying power will decrease. Buying a home now with lower prices and lower interest rates means you'll save more in the long run.
The moral of these stories: It is still a great time to buy!