We are not alone anymore!
I'll never forget our first foray into Davidson. On our initial visits to the area many moons ago we toured Charlotte, Huntersville and Cornelius. But as we left the hustle and bustle of those areas and crossed into Davidson, I knew it was the place for our family.
A town with a charming Main Street blossoming with Mom and Pop businesses, beautiful tree lined streets meandering through historic neighborhoods, and ample green space to get out and explore. Our very own Mayberry!
One thing I especially loved was the presence of Davidson College in the town. Having grown up in a college town, I knew the college would add some academic flair as well as opportunity to the area.
While Davidson has grown steadily over the years, the pandemic has supercharged that growth. It seems with living / working flexibility, people from all over the country have recognized Davidson as their panacea.
Davidson's desirability is no longer a secret! People from all over the country are seeking homes here. Let's take a look at some stats. In a typical, more balanced market, supply of homes is somewhere between 4-6 months. This means if no more homes came on the market, it would take 4-6 months to sell them all. In today's market we are right around a 1 month supply! We have nowhere near enough homes for all of the people looking.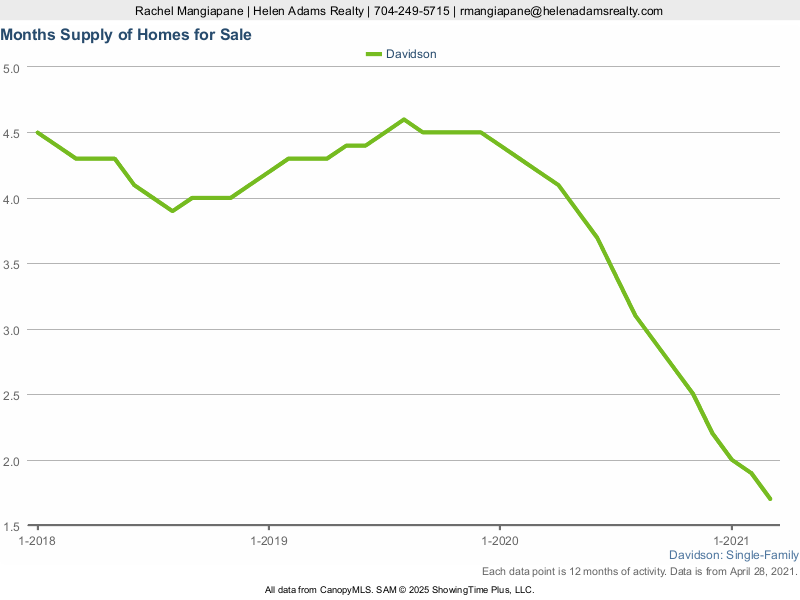 In a more balanced market, when somebody buys a home, they also typically have a home to sell. Because we have an influx of people from out of town, they are selling their homes in New England, California or Chicago for example, but buying here. So it is just taking inventory, not creating inventory.
Also, because the buyers from out of town come from more expensive states typically, our homes feel like a value. This means many buyers are not only able, but also willing to pay well above asking price to secure a home here. While the home may not be "worth it," they can do it and those sales are becoming the new comparable sales, locking in the higher prices.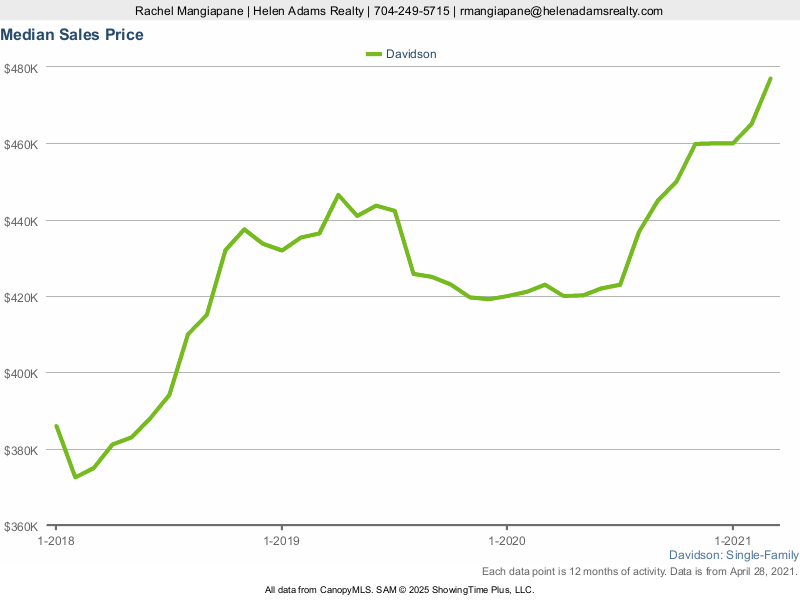 To keep up, locals also have to pay these prices. What does this mean for the locals?
We own VERY desirable real estate! Here's an example:
Last August (2020) a home in River Run sold in the $650k range. Fast forward to this spring. That same home went on the market in the $720k range and was under contract in a single day with multiple offers. It closed more than $20k over list price around $750k. Homes that previously languished on the market now get snapped up in competitive bidding even sight unseen!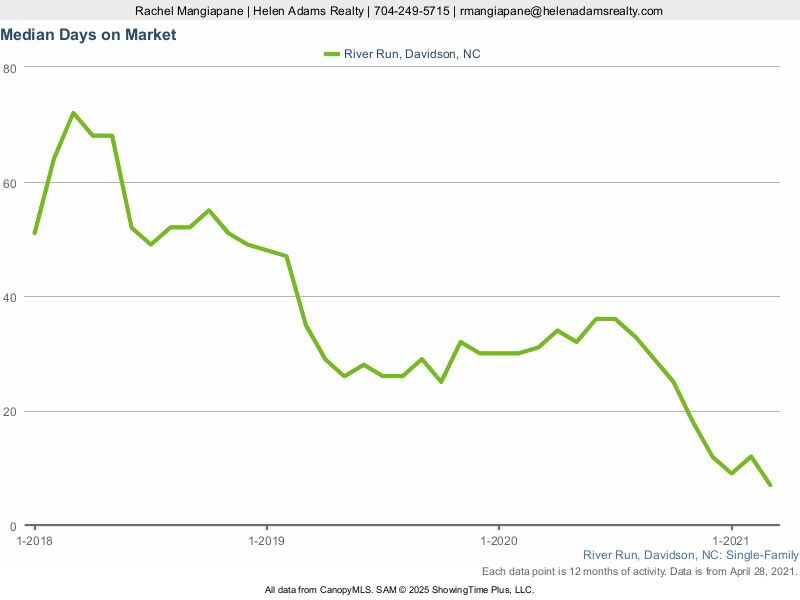 This is fantastic news is you have an interest in selling. Chances are with this frenzy of activity you can lock in significant profits.
Lifestyle neighborhoods like River Run are extremely popular. Working from home and playing golf in the afternoon year round is pretty attractive!
Tennis, swimming, greenways for riding your bike.
Inventory in River Run is especially low.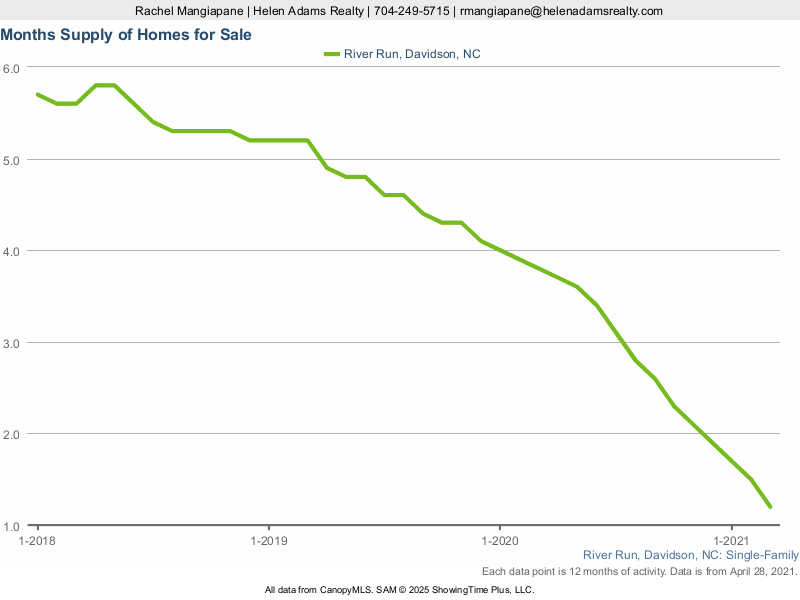 Pricing your home well is still important if you are considering selling. Because of the current frenzy, days on market can hurt an overpriced property. But, if you want to test out that price, there are ways to do it while avoiding the days on market issue. Firm exclusives allow a listing to sell privately, off of the MLS. Testing a price works well that way. Eager buyers within our firm clientele feel excited about the special opportunity and as a seller you take little risk. If your property isn't snapped up as a firm exclusive, then you have a pulse on the pricing. More important than that concept though, I'd do a detailed analysis to determine how to price your home to maximize profits while still ensuring a painless sale. I listed a home over the weekend and my sellers were able to enjoy multiple offers over asking price, but other terms that were extremely attractive to them. Free leasebacks and other perks are not uncommon for sellers these days!
I feel so grateful to live and work in this beautiful area – helping people transition from a large family home to a lakefront retreat or from a home that is just too small now to a family neighborhood, this area offers something for everyone. And clearly, word is getting out – expect lots more folks to park it here!