Despite being in a worldwide pandemic, the state of the real estate market remains incredibly strong in the Charlotte Region.
While I feel grateful to be out of 2020 and looking forward to a new year, I thought it would be important to reflect on 2020 in terms of real estate to see what happened in 2020 and to look at what we expect for 2021.
With that knowledge, buyers, sellers, investors and dreamers can make some decisions to best take advantage of the market.
Lawrence Yun, Chief Economist for the National Association of Realtors made some predictions in July. The pandemic was at a pretty awful point and he predicted home sales to be down around 11% with prices only rising by about 4%.
So, was he right?
In the Charlotte Region, the median sales price increased by 9% instead of the 4% projected for the year. This wasn't true nationwide, but it certainly was for Charlotte as we gained new residents.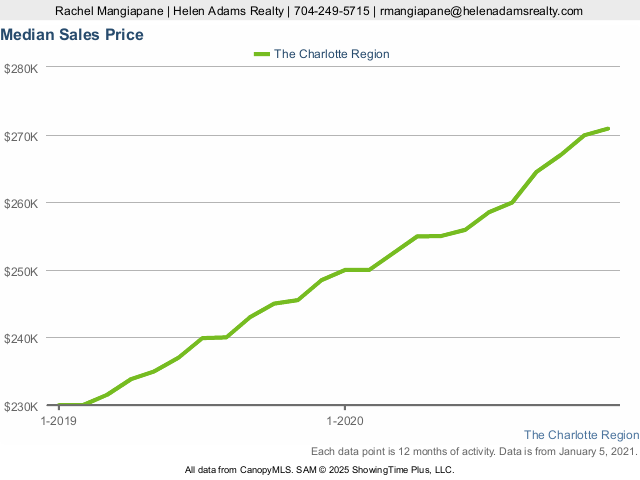 While median prices rose over 9% in 2020, months supply fell.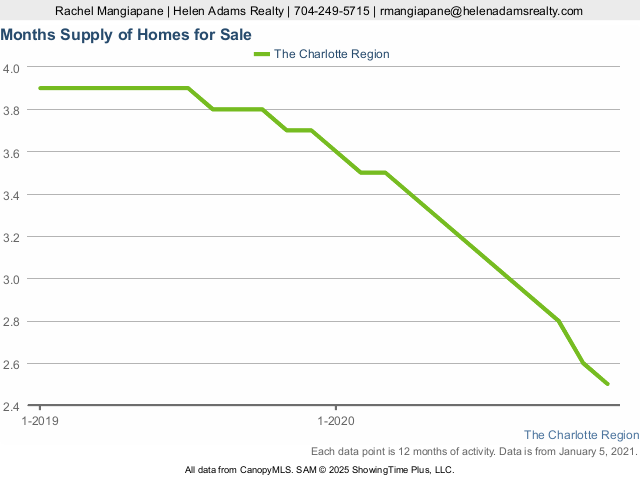 In an average market, an even balance between a buyers and sellers market hovers around 6 months supply. In the Charlotte Region, experts believe a healthy market to be closer to a supply of 4 months. Currently in the Charlotte Region we are at an extremely low point, favoring sellers. Our supply is currently down to around 2.5 months. Homes come on the market and are snapped up the same day in multiple offer situations.
Sometimes that leads sellers to think they can over price their homes for sale, and while there is a buying frenzy which occurs to get homes under contract, it is a bit more difficult to get them closed. The market is forward looking and buyers know prices are appreciating. They are often happy to go above asking price. The difficulty is the back end. Lenders want to protect their investment in good times and bad, over the life of a 30 year loan. This means appraisers use data on closed sales to determine the safety of a loan for their lender – a backward looking measure. This makes the skyrocketing prices harder to defend from an appraisal point of view. A good agent can help a seller to price their home to take advantage of the rising market, while making sure they can support the list price so the deal doesn't fall apart during the appraisal.
Understanding this push and pull of interests is critically important to completing the transaction!
Over the holidays I saw the image below and thought it described the perspective perfectly!
A funny picture, but pretty spot on about how different these numbers can be.
So, 2020, despite the pandemic ended up pretty strong for real estate. But, what do we expect for 2021. This is where is gets really interesting. Lenders, backed by Fannie and Freddie, also recognize the strength of the appreciating home market. After all, land is finite, so as our population grows, we all need places to live.
With a switch to more and more remote work, people are discovering they can disrupt the conventional thinking about where to live. Before it was to live where your job is based. That is definitely something dramatically different as a result of the pandemic. Many people are now taking a step back to decide where they want to live, and indeed are buying homes there. Considerations like cost of living, climate, proximity to loved ones, tax rates are just a few of the factors. North Carolina is a great place to live and checks quite a few of those boxes naturally. I am even seeing entire families make plans to get to this area!
This explains the growth we are seeing. In fact, I just saw that Charlotte is now in the top 3 fastest growth areas projected for 2021.
If you are wondering if it is too late to buy here though…. not even close! When people from New England look here, they still think it is a veritable bargain. Our home prices are rising, but we haven't crossed the threshold where the opportunity has disappeared.
Back to the rates though. Fannie and Freddie recognize the strength of the appreciating market. Last year the conforming loan limit was $510,400. This year, beginning Jan 1, the new cap goes up to $548,250 – a 7.42% change – and it means more buying power before jumping into the jumbo category. This change correlates with the 7.42% nationwide rise in home prices in 2020. Charlotte is leading the way with these numbers and is expected to do even better in 2021.
How can you take advantage of this? Here are a few ideas:
Have a young kid? Consider a second home/rental as an investment vehicle to save for college. With rates at all time lows, it is the perfect time to buy that beach cottage or Lake home you've always wanted. Enjoy vacations there when it is convenient for you, rent it on the Airbnb/VRBO market the rest of the time to help pay your mortgage! When you need to cash in years from now, you will have created memories, and equity.
Have a kid in college? House hack. Why pay rent to another investor? Instead, look into buying a spot with several bedrooms for your kid. Have the roommates pay rent to you, which pays your mortgage. With rates this low, their rent and yours can take care of the payments, and after years of this you've paid the rent… and built equity.
Feeling nervous about the state of the market? Maybe it is a good year to refinance and just reduce your payments? If you bought years ago and you are still paying a high rate, this is something you should definitely consider — no obligation to just see how this would change your payments.
Maybe you've always had your eye on that beautiful home near you, but it's just out of your comfortable range. You might be surprised. Swapping your lower priced home for "that" one might actually work because of the change in interest rates. For example, a $600,000 home with a 3.93% rate from a year ago would have a payment of $2,840, while a $700,000 home today with the current 2.67% rate would have a lower payment of $2,828 (Keeping Current Matters). Let's run your numbers and see if the dream home is currently affordable with these awesome rates!
Are you ready to downsize? This is a great time to lock in the gains from this incredible market! Sellers are faring extremely well, so this could be a great time to make such a move.
Jennie Daniels with Highlands Residential Mortgage has shared some information and data with me explaining that while rates are currently at historic lows, they are expected to climb as the year progresses. Once the vaccine kicks in, economists expect the economy to surge… and inflation with it. This will drive up rates.
There are many ways to make real estate work for you. Lots of factors have come together to make this a great year to make those changes you have always considered. Give me a call and I can do a Real Estate Review of your current situation and plan for the goals you have. Let's do this!