In these times, the real estate market is ablaze with activity. New homes are listed and quickly gobbled up by frenzied buyers anxiously awaiting fresh supply. Some are even bidding on coming soon homes, gaming the system by getting a home under contract sight unseen.
Likely as a result of Covid, sellers are reluctant to have a parade of visitors in their homes. In Davidson, months supply is typically healthy at around 6 months supply. The graph below shows the sharp decline we are currently seeing, to below 4 months supply.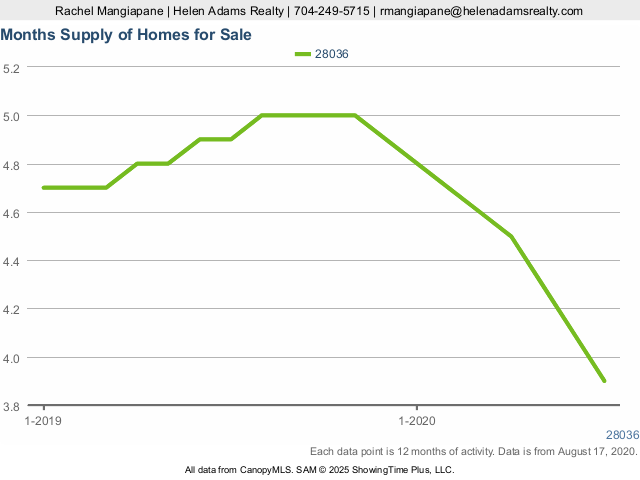 River Run neighborhood, a popular one in Davidson is down to below 20 homes for sale, far below normal.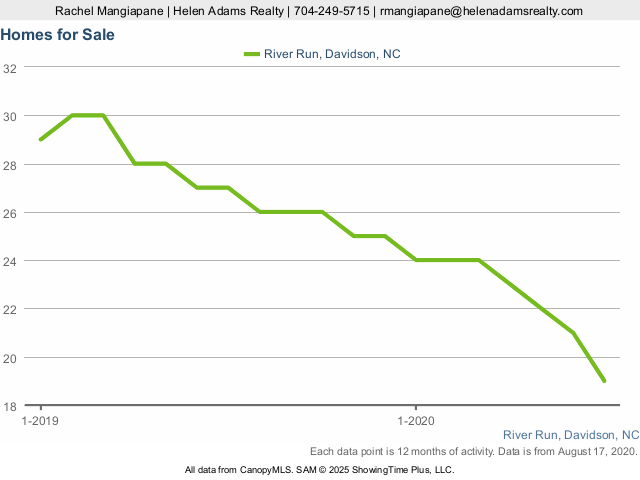 Yet, analyzing the number of people looking in the neighborhood, 84 people are currently actively looking for a home in the area.
As mortgage rates hover around record lows, an increasing number of buyers are looking to purchase. But, the competitive market leaves some sellers afraid to list for fear of becoming homeless.
With no end in sight to the competitive landscape, what is a buyer to do?
Simplify your offer and put your best foot forward on the first try. Make your offer attractive to the seller – ask what is important to them. Show your commitment by having your pre-approval in hand and a solid due diligence and earnest money deposit.
As a seller, have your home in good shape and ready to show. Price it well and enjoy this time where you are in charge. A well priced home can often garner offers above list, while an overpriced home languishes on the market. Pricing well is extremely important.
I have talked about pricing in other blog posts. See here: http://The Yankees are Coming Post
If you are interested in learning more about your particular area and how it is faring in terms of market activity, give me a buzz!