During the Covid-19 pandemic, several things have shifted, but real estate is a quite noticeable shift. People are spending lots more time at home and locally in their communities. Naturally, that has resulted in an awakening to the importance of "place." Many jobs that seemed to be online temporarily, are now possible on a more permanent basis. This means that instead of living where you work, people can now work where they live. Just weeks into the pandemic we saw a mass exodus out of the cities. Many headed south, drawn by beaches, vacation areas and a more affordable cost of living.
Now, many months in, people have decided to stay. Why go back to crowded cities at all? Elevator rides suddenly seem high risk, parks are closed or crowded, and public transportation seems like a festering Petri dish filled with germs. Not to mention, it is insanely expensive. However, moving to a place of your own choosing just wasn't really a consideration before. Covid has changed all of that.
What does this mean for North Carolina real estate? Well, it is ON FIRE! It seems like everyone wants to move here!
Week after week open houses are flooded with people from big cities. They are astounded by how much house they can get for the price here in Charlotte. Faced with a prolonged period of staying at home, private yards, pools and places to stay home comfortably are extremely appealing. Pool vendors are now booking a year out! At a recent open house I was hosting, a couple from NY visited. They've been here for months and finally decided to make it permanent. When they saw this closet, they were astounded. It is practically half the size of their entire studio in Manhattan. They couldn't contain their excitement.
What does this mean for our market though? It is moving fast, and prices are being driven up quickly. Just two years ago, the median price per square foot hovered around $190. Today, people are snapping up properties closer to $250/ sq ft.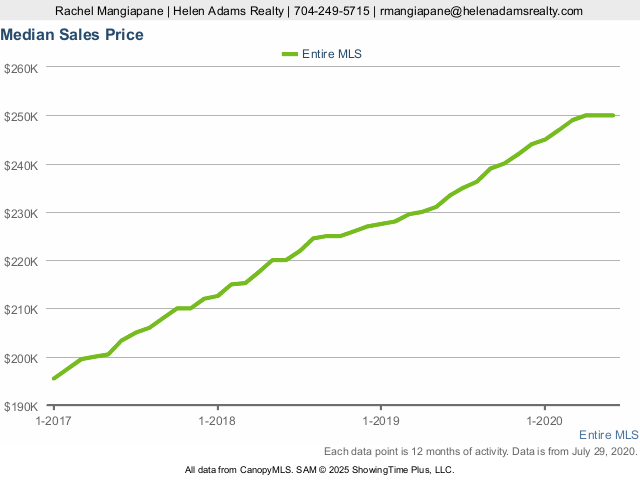 Part of this is driven by the lack of inventory. Because so few homes are on the market, bidding wars ensue. The reason for the lack of listings is multifold. One, people don't want strangers in their homes during a pandemic, and also there is nowhere to go – so few homes for sale, they fear being homeless in this time. Homes are selling faster than new listings are coming on the market. The first graph shows the overall reduction in homes for sale.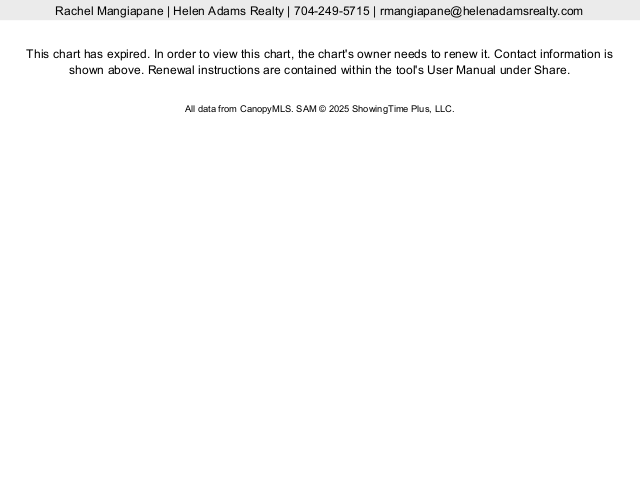 This new listings graph essentially shows new listings falling off a cliff at the onset of the pandemic.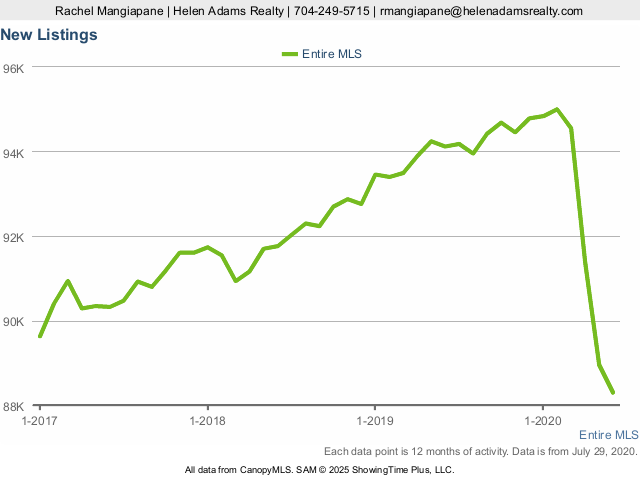 So some have asked, then, is this still a good time to buy here? The answer is still YES – Charlotte is a great place to live, work and play, and interest rates are extremely low. Appreciation here has been steady and is expected to continue at a steady pace.
However, if you are considering buying, especially in the sub $450k market, you need to be patient and prepared. Patient, because the first house you bid on, might not work out because multiple offers are common. Preparation is important because the moment a house comes on the market you'd consider, you need to be prepared to act fast! That is not the time to be working on a pre-approval, or finding a broker. This work should be done in advance so you are ready to spring into action. A good broker will position you and advocate for you in your negotiations. Having a process here is key, otherwise you could find yourself frustrated.
As I've mentioned before, if you are considering selling, and you have a place to go, this is a great time to sell. However, getting your home "parade ready" and pricing it well is extremely important. Some people have decided that they should go for extremely, and unreasonable list prices because they think buyers are so desperate. While buyers are very competitive, they aren't dumb. Overpriced listings, even today, are languishing on the market, taking price reductions, the pariahs of the current market. Once that happens, buyers start to ask what is wrong. A far better strategy is to price the house well at the outset, and you might get lucky and fetch above list price in the competitive market place. A good broker can do a detailed analysis to help recommend a pricing strategy. A process oriented broker is key here. They won't make this up out of thin air, the recs should be data and market knowledge driven.
Buyers from New York and other historically expensive areas have a lot of buying power when they come to North Carolina. However, that may begin to change as it becomes difficult to sell real estate in those cities, time will tell. For the moment, though, they are enjoying our relatively low cost of living as compared to their previous experience. Even with reduced buying power, they will still be quite comfortable here.
I am hopeful that the market begins to stabilize and that the current buying frenzy slows down a bit so the consideration of home can be approached with the thought and care it deserves. This is a great place to live, I hope it remains that way.